Wondering about the question mark in the title? Well, it's because today's post is actually about ottomans. I mean they're kind of like chairs right? They are used for sitting. I'm a little obsessed with them right now. So, just for this Friday, let's talk ottomans. Specifically cowhide ottomans, mmmmmkay?
I'm over the moon crazy for these and have been for-ev-er!
Oh my gosh, I want them, borderline need them. Okay, okay, I just want them. BAD! I'll take two of them for my family room stat. They're from
Ikea
, and they're $279 a pop. I'm saving my beans. Why must it take so long to save up beans?! Oh that's right – we have kids (i.e. money-sucker-uppers). 🙂 Someday……someday two of these will arrive, and I'll pet them. Sorry, too much? I know some people don't speak cowhide. I get it, really I do. I, however, do speak the language and am quite fluent. I've never been into hide rugs as much as I love hide ottomans and chairs. There's just something about that look that speaks to me. What? I told you I was fluent.
Love this! It adds texture and warms things up in this living space. It gives the room a nice layered and collected feel.
I also like this ottoman from
Room and Board
, but I prefer the shape of the Ikea one best. Not to mention that these are more expensive.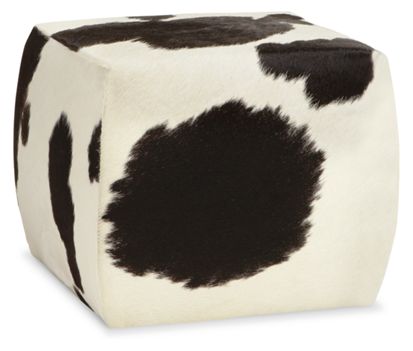 So, picture me checking the Ikea website every morning wondering if they've gone on sale and praying they haven't been discontinued before I get all my beans saved. Pretty pathetic huh?!
What do you all think? Are you a hide lover like myself? Or is this just not your thing?
Just for fun, because after all, this is a "for the love of chairs" post. Check out this chair!
Shut your mouth! It's like, "Come to momma!" This is the kind of chair you build a room around! It's way out of my budget, but one of you swanky peeps might wanna
make it yours
(then invite me over so I can curl up with a good book and a glass of wine – I won't spill -I promise.)!
Seriously though, Mom, if you're reading this you should think about buying this chair. It would look awesome in your home, and I'd fly out to Cali to visit more often. 🙂 What? You know you love it too. Where do you think this chair obsession came from?! Ummmmmm…..apple……tree!
Sorry – awkward! Have a great weekend you all! My kids want me to take them to see The Smurfs movie. Good golly, why do they keep remaking things that were just fine the way they were? Uh – Footloose – really?! If they try to remake Pretty in Pink I might start a revolution! You think I'm kidding; I'm so not. I mean you all saw what they did to Fame right?! Travesty- enough said. (Who remembers what movie the word "travesty" came from?) Clearly – I'm crazed – why you keep reading this blog I'll seriously never know. 😉