I know there are many that have very strong opinions about decorating for Christmas before Thanksgiving.  In fact I used to be the team captain of that camp.  But last year I put my tree up the week before Thanksgiving, and I ordered our Christmas cards the day after Halloween.  And you know what?!  I had the absolute best holiday experience I've had in years!  Having both of those things done before Thanksgiving somehow gave me more breathing room to just enjoy doing things with my family.  So when Lowe's Home Improvement contacted me about partnering with them on a holiday campaign this year, I jumped up with an enthusiastic YES, PLEASE!  And I knew exactly which spaces I wanted to spruce up for the holidays.
Our screen porch was in such a sad state last Christmas having been so neglected after we had just moved in to this house five months before.  Since I finally gave our screen porch a welcome makeover this spring, I wanted to give it a healthy dose of holiday hospitality.
Welcome to our Christmas Screen Porch!
(trees, glass lantern, wicker lantern, wreath, rockers, rug)
The holiday season in Charleston is pretty dreamy.  Whenever people ask me, "What is the best time to visit?"  I always say, "The last quarter of the year!"  October through December the weather is just perfect!  The summer humidity is gone, yet it's not too cold to enjoy being outside.  The weather is slightly chilly in the early mornings, but warms up during the day.  I've been enjoying my morning coffee in this spot a lot lately.
My holiday decorating mantra is always "keep it simple".  I think a little goes a long way in creating a cozy Christmas space.
These outdoor lighted trees bring in a festive holiday vibe.  I love the tree stump base.  To add a little Christmas spirit to my palm trees, I filled the planters with red ornaments, pine cones and lights.
(lantern)
This big lighted wreath is the perfect focal point to greet you as you walk in to the space.  And it's beautiful lit up at night!
I'm a big fan of a traditional Christmas look.  Give me all the red, plaid and cozy cable knits!  Since I use red as a accent color in my home year round, these textiles have a long shelf life.
The star tree topper pictured above is one my favorite holiday items from Lowe's!  I love the modern look.  While it's a tree topper, I like using it as table top accessory.
And don't even get me started on the faux birch branches and gold antlers.  How great are these?!
As the Sun Sets
As much as I love my quiet mornings out here, the glow that fills our porch as the sun sets is the perfect end cap to a long day.
The lights come on, and it's such a cozy space to relax.
I can't say enough good things about the lights I put in the palm tree pots.  They're warm white LEDs!  So they're energy efficient, but not that terrible space alien color of white.  Can I insert the praise hands emoji here?!  Plus since they're LED lights they don't get hot.  The best part is they have a couple of different settings, so you can have the lights stay on, dance, twinkle, etc.  I've never been more excited about lights before! #youknowyoureoldwhen  😉   I'm planning to use them on the front of the house too!
As much as I loved using our screen porch this spring and summer, I think I'm enjoying it more now than ever.  I'm really glad I decided to give our outdoor space a festive vibe for the holidays!
Evenings
I'm enjoying family nights out here away from the TV where we can roast marshmallows and enjoy being together.
Sources
All of the sources in this space are linked here below.  Thanks so much to Lowe's Home Improvement for sponsoring this post!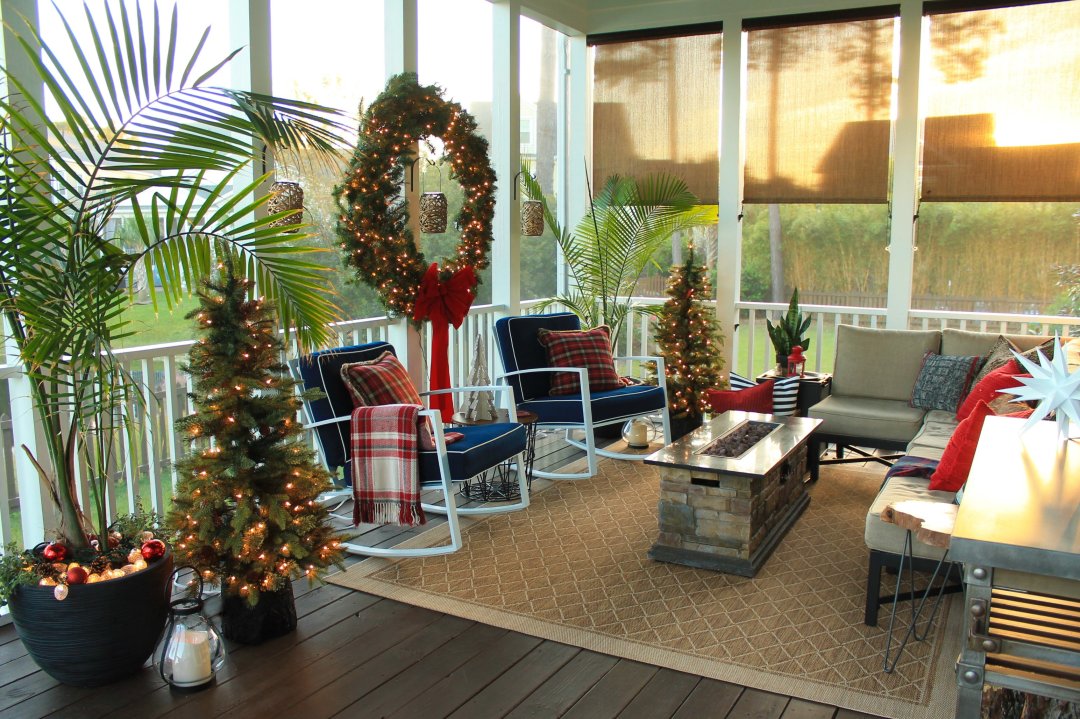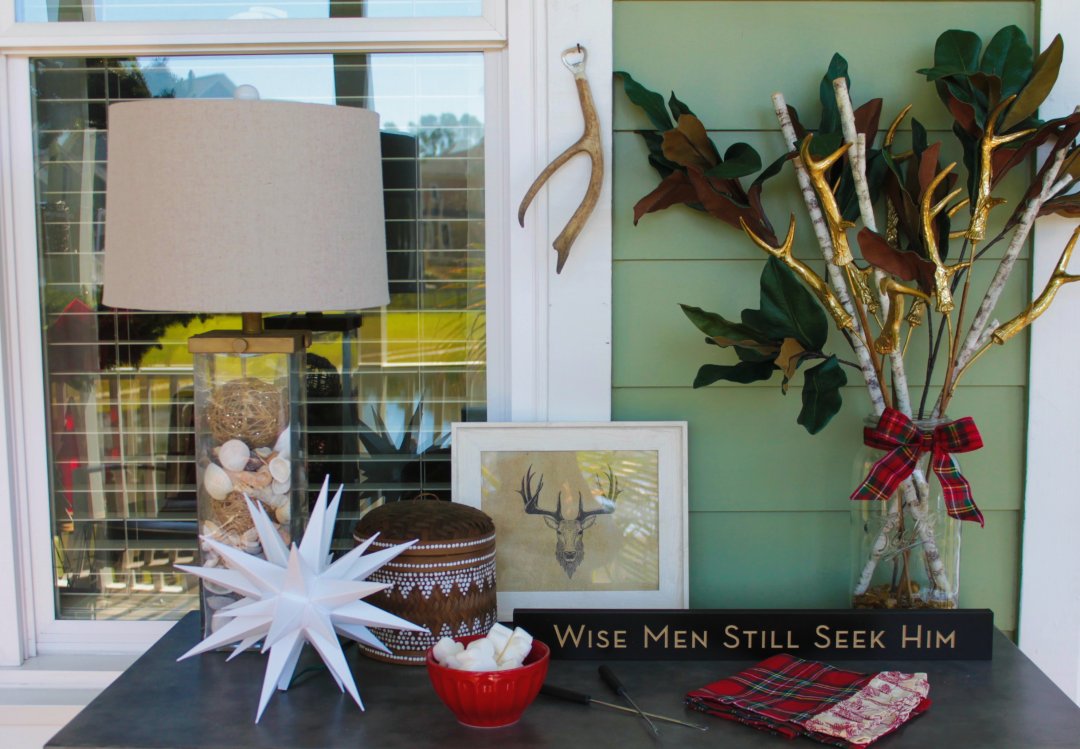 *FYI – The manufacturer of this fire coffee table does not recommend using it in a covered space or on top of a rug.  We've, however, not had any issues.  We never leave the fire unattended.  Use it as we do at your own peril.  😉  You've been warned.